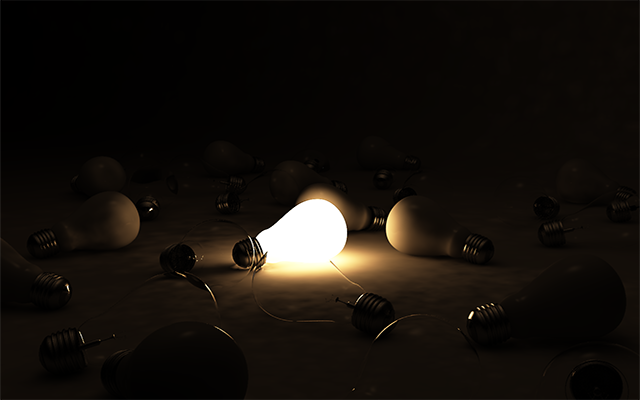 Do You Know How Dark It Is?
Do You Know How Dark It Is?
This past summer my family and I were traveling through a big storm while heading to the cities. A storm where the sky is black, lots of wind, and has that eerie feeling to it. As we were coming out of it, the black outline of the storm system went as far as we could see in the sky east to west. We made it out from under the system and it was like the lights went on...daylight was back. While looking back at the storm, my wife said, "You don't really know how dark it is until you come out of it into the light."
Isn't that the truth with the Christian faith? You don't really know the darkness you are living in until you are brought into the the light. The imagery of light and dark is throughout the Bible. Jesus said in John 12:46- "I have come into the world as light, so that whoever believes in me may not remain in darkness." Jesus came to save the world, however not everybody will be saved. To be saved, you must receive Jesus' words, which means receiving Him as Lord and savior. The greater I understand how depraved I am, the greater I understand how desperate I need a savior. I heard a guy on the radio say "A weak view of sin leads to a weak view of God." I agree with that. We are all born into sin (darkness) and on our way to hell, an eternity apart from God. We cannot take our sin too lightly.
"Therefore, just as sin came into the world through one man, and death through sin, and so death spread to all men because all sinned."- Romans 5:12
"For all have sinned and fall short of the glory of God"- Romans 3:23
"For the wages of sin is death, but the free gift of God is eternal life in Christ Jesus our Lord." Romans 6:23
BUT! Praise be to God! He made a way out of an eternity apart from Him.
"But God shows his love for us in that while we were still sinners, Christ died for us."- Romans 5:8.
"because, if you confess with your mouth that Jesus is Lord and believe in your heart that God raised him from the dead, you will be saved. For with the heart one believes and is justified, and with the mouth one confesses and is saved. For the Scripture says, "Everyone who believes in him will not be put to shame." For there is no distinction between Jew and Greek; for the same Lord is Lord of all, bestowing his riches on all who call on him. For everyone who calls on the name of the Lord will be saved"- Romans 10:9-13
Are you alive in Christ? Has God revealed Himself to you, but you are choosing to remain in darkness and not venture into the light?
A few verses after the famous John 3:16, it reads "And this is the judgment: the light has come into the world, and people loved the darkness rather than the light because their works were evil. For everyone who does wicked things hates the light and does not come into the light, lest his works should be exposed. But whoever does what is true comes to the light, so that it may be clearly seen that his works have been carried out in God."- John 3:19-21.
Are you born again, but are harboring secret sins that are keeping you from growing in Christ? Pride, lust, greed, envy, anger, etc. All sins that others might not be able to see on the outside, but are eating you alive from the inside. I desperately need the saving, cleansing power of the gospel each and every day to help me be transformed into His image. At new birth we are sanctified, and we will continue to be sanctified until the day we die. Here's a great explanation of sanctification out of a Bible footnote-
-Sanctification- Greek hagiasmos- means to "set apart" for God's special use, to make distinct from what is common- hence, to be made like God who is distinct from all else and therefore holy. The Greek word for sanctify refers to a process which is perfect in principle though not yet attained. Though we are not yet completely holy, we stand in relation to God as though we were. This is indicated in Heb. 10:10, where the verb sanctified is in a tense that indicates the present result of a past action. Thus Christ sanctified by His one sacrifice, and that sanctification has the lasting result that it continues to work in us, making us holy. Sanctification has been done once for all, but its effect still continues as stated in Heb. 10:14, in "those who are being sanctified."
1 Cor. 4:4- "In their case the god of this world has blinded the minds of the unbelievers, to keep them from seeing the light of the gospel of the glory of Christ, who is the image of God."
Satan has blinded the minds of non-Christians from seeing the light. The light is Christ, who is the image of God. But praise God! Just as God's word spoke creation into existence (Genesis 1), He can shine that light in our hearts to give "the light of the knowledge of the glory of God in the face of Jesus Christ" (2 Cor. 4:6). Then we can truly see Jesus for who He is, the Son of God, and worship Him as our Lord and Savior. Praising Him for making a way for us to be justified (declared righteous) before our Holy God.
Just as when a light switch is turned on in a dark room...You can finally see.
- Luke Lundell